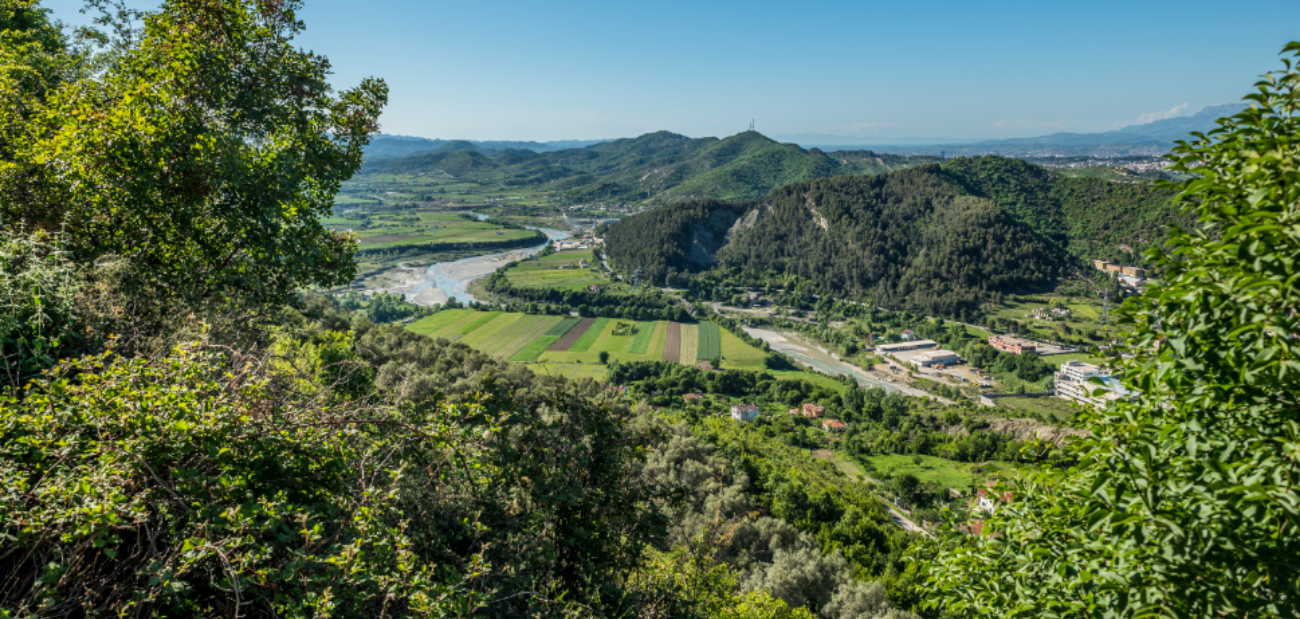 Overview
Petrela is located 12 kilometres southeast of the capital, alongside Tirana - Elbasan national road. Its villages are extended on both sides of the scenic valley of Erzen, across the half of its length distance. Petrela territory is bordered in the east by Dajt, in the south by Bërzhitë, in the west by Baldushk and in the north by Farka.
A number of distinguished physical -geographical units are found within this territory such as the Ridge of Farka, 6 kilometers long and 445 meters above sea level; Mullet-Fikas hills and Petrela Castle, 550 meters above sea level.
Petrela area is characterized by nature with a typical Mediterranean climate that is enriched by its ancient history. This area, also due to Erzeni River valley and the Mediterranean climate factor, has a rich biodiversity.
Considering its physical formation shape with fields, hills and valleys, it provides a striking contrast to nature. Many restaurants and tourist resorts are established along the river and hills that lie nearby. Sunbathing and different river activities take place in the river flow during the hottest days of the year.
Historical background
Petrela is mentioned since XI century in the battles against Normans and Byzantines, where it is written in the form of Petrula by Ana Komnena (1083 – 1153). It is worth mentioning that Petrula-Petrela was identified by A. Boue, who also mentions Petrela two other times in his work.

The name which Marin Barleti, the distinguished historian of XV century, has attributed to Petrela as "oppiduminexpngnabile" (non-conquerable city) shows that at this time Petrela had acquired the features of a small town furnished with external perimeter walls.
Mamica, the sister of Gjergj Kastrioti lived there during XV century. In 1445, Scanderbeg decided to celebrate a princely marriage by marrying his sister Mamica to the ruler of Petrela, Muzakç Topia. According to the legend, all princes of the time were invited in the wedding.
Economy and environment
The main activity of the area is agriculture and livestock. The vineyard cultivation has been recently developed. Further, the locals produce vegetables through greenhouses. Agricultural land is located in the plain and hilly areas.
Geographical position, hilly landscape and areas along the valley allow highly favourable conditions for the development of orchards. The inhabitants of villages have sown plantations with olives and grapes, steadily producing olive oil, wine and the traditional Albanian drink "raki".
This area, because of Erzen River valley and the Mediterranean climate factors, has an incredibly rich biodiversity.
Erzen River offers the possibility of fishing. In its waters we find tasty fish, characteristic of freshwaters, catfish.
Flora of the area is characterized by plant variety such as blackberries, juniper, wild rose, oregano, chamomile, wild hollyhock, wild tea, St John's wort, stone fern etc. Among the rich flora there are also plants with curative and medicinal properties. Having such a large variety of medicinal plants has enabled the development of their collection, processing and selling activity within the area.
Tradition
Petrela is mentioned since ancient times for the processing of fabric on the loom, weaving, paper sheets mills grinding, workshops of oil production, workshops of woodworking, blacksmiths for bronze fusion and weapons production, tools and vessels etc.

The tradition of fabric and embroidery works is inherited until today.
It is a tradition of the area lifestyle that every family has cattle or cows, enabling the family to provide milk and its by-products such as milk, cheese, cottage cheese, yogurt, butter etc.

Dairy farm business has started in villages during recent years, which provide raw material from local residents having livestock. A tradition is the production of goat cheese that is highly preferred in the market.